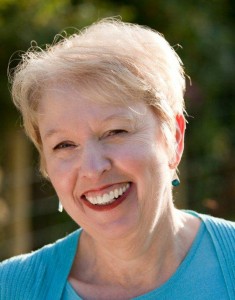 Judy Millar is a Canadian humorist, comedic storyteller, speaker and author based in Vancouver Island, Canada (Nanaimo, B.C.)
She has entertained readers and audiences around the Island, in Vancouver, in Ontario and as far afield as Switzerland with her funny personal essays, witty short stories and live "in persona" characters (e.g., "The Automated Lady"; "My Siri; "Brunhilde Beethoven."). She also speaks about using humour as a life and workplace tool to handle stress and add zest ("Putting the U in humoUr").
Judy and her husband Randy (a.k.a. "Kayak Guy") moved to Vancouver Island from Kitchener, Ontario in 2007.
 Creative Writing Awards & Publications
Judy is the author of the comic short story collection for adults: Beaver Bluff: The Librarian Stories (2012, Brannen). She has won numerous awards for creative writing including the John Kenneth Galbraith Literary Award (short story), the Kerry Schooley Memorial Award (short story), Mayworks (humorous essay on work & short story), The Toronto Sun (essay, non-fiction), and is a two-time finalist in the Writers' Union of Canada Short Prose Competition. She has been published in magazines, literary journals, periodicals and anthologies. She was also principal lyricist for over 90 songs published on more ten award-winning children's and new country albums.
Corporate Communication Awards
As a corporate communications manager and publications editor, Judy earned an International Association of Business Communicators' (IABC) Silver Leaf Award of Excellence (Community/Investor Relations), a Life Communicators Association (LCA) Award of Excellence (Annual Reports/Mutual Companies) and an IABC Silver Leaf Award of Merit (Annual Reports).
 Academic Background, Professional Memberships & Associations
Judy Millar is a graduate of Wilfrid Laurier University (English & French literature). She has studied short fiction-writing and novel-writing at Vancouver Island University, and public relations theory and practice at the University of Victoria. Judy is a member of the Society of Composers, Authors and Music Publishers of Canada (SOCAN) and the Federation of BC Writers. She is a former director of WordStorm Society of the Arts.