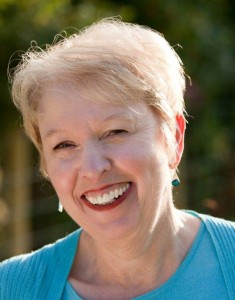 My name is Judy Millar. I'm a writer—but I'm not THAT writer. I'm not Judith Miller with an "e," the Pulitzer prize-winning American journalist who wrote about Weapons of Mass Destruction and chose to go to jail rather than reveal her sources. I would give up my own grandmother under duress and my Pulitzer is, apparently, still in the mail.
So who ARE you?
Well, I'm a humorist and a comedic speaker—at least that's who I am now, in my life's "Second Act."  In my student days, I worked as a poultry plucker and an inept electrician (which gave me some stories I still love to tell). I've since been employed as a puppeteer, a greeting card-writer, an ad copywriter, a song lyricist, and, primarily, as a publications editor / communications manager.
In one way or another, I've earned my living with words ever since I graduated back in the 70's. (Yes, we wrote on scrolls back then.) Still, while I loved writing for print, I always enjoyed making my colleagues laugh even more. Now, as a speaker / comedic storyteller, I get to hear lots of laughter, first-hand, when people respond to my stories. I love it—and they seem to like too!
You're an Island Girl Now?
Yes, I moved to Vancouver Island, B.C. from Kitchener, Ontario in 2007, along with my husband Randy (I call him "Kayak Guy" when he shows up in my stories) and our "tough-guy" shih tzu-poodle, Biker.  Randy took to island life like a duck to water (or rather, like a kayaker to the ocean). Me? I cried an ocean of homesick tears until I finally found "my people." One in particular, Cindy Shantz, twisted my arm to try storytelling. Tell my stories without paper? From memory? I was terrified—I almost chickened out!—but now Cindy and I call ourselves WordChickz and we love to entertain audiences together. Bawk Bawk. Double the fun!
 Are you still writing for publication?
Absolutely. I write all my own original stories and essays. Some have been published in national publications like Reader's Digest (Canada) and Writer's Digest (USA), and others in various journals, periodicals and anthologies. I authored a fictional humorous short story collection for adults: Beaver Bluff: The Librarian Stories in 2012 (Brannen). Now I'm working on my second book, a collection of my humorous essays, including some of my performance pieces. Millar Lite: A Comic Look at Life, Love, Sex and Survival is due out in 2017 (it should be out already, but performances and public speaking come first).
Any awards?
Yes! I've been thrilled to win some awards and recognition for creative and/or humour writing. Among them are the John Kenneth Galbraith Literary Award (short story), the Kerry Schooley Memorial Award (short story), Mayworks (humorous essay on work & short story) and The Toronto Sun writing contest (essay, non-fiction). I'm a two-time finalist (2015, 2014) in the Mark Twain House Royal Nonesuch Humor Writing Contest (USA), and a two-time finalist in the Writers' Union of Canada Short Prose Competition (2011, 2009). I've also won many prizes in local and regional writing contests (those are listed under "Recognition" on the "Writing" page).
In previous years, I was recognized for songwriting (I was principal lyricist for over 90 songs published on more than ten award-winning children's and new country albums). Also, as a corporate communications manager and publications editor, I earned an International Association of Business Communicators' (IABC) Silver Leaf Award of Excellence (Community/Investor Relations), a Life Communicators Association (LCA) Award of Excellence (Annual Reports/Mutual Companies) and an IABC Silver Leaf Award of Merit (Annual Reports).
 What's your Academic Background? Any professional Memberships & Associations?
I'm a graduate of Wilfrid Laurier University (Majors: English & French literature). More recently, I've studied short fiction-writing and novel-writing at Vancouver Island University, and public relations theory and practice at the University of Victoria. I'm a member of the Society of Composers, Authors and Music Publishers of Canada (SOCAN) and the Federation of BC Writers. I'm also a former director of WordStorm Society of the Arts.