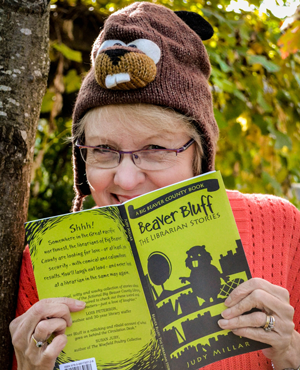 "When's the new book coming out?" people ask me. The question makes me squirm.
*Millar LITE: A Comic Look at Life, Love, Sex and Survival (*it's a working title—what do you think?) should have been out by now. It's been back-burnered while I worked on some performance pieces and, ahem, did a little procrastinating. Okay, a lot of procrastinating. BUT I'm turning up the heat under Millar LITE this fall. It'll be a collection of my favourite performance pieces (never before in print), along with some of my published magazine essays, plus some "never-before-seen-or-performed" pieces. That's right—a whole, hilarious hodge-podge of original humour—or that's the plan. Now, please turn up the heat under me BY PESTERING ME RELENTLESSLY!
Millar LITE will be creative non-fiction—that's the direction my writing has taken since I started speaking and telling my stories to audiences. But my book Beaver Bluff: The Librarian Stories (2012, Brannen) was fun fiction for adults. Here's what reviewers had to say about it:
"Beaver Bluff is a rollicking and ribald account of what goes on behind the Circulation Desk."
Susan Juby, author of The Woefield Poultry Collective
"A whimsical, witty and wacky collection of stories about life in the stacks of the fictional Big Beaver County Library. No library card required to check out these weird and wonderful characters—just a love of laughter."
Lois Peterson, author and 30-year library staffer
***
Scroll down for more information about each Beaver Bluff book/format.