Judy Millar is a Canadian writer, humorist and professional speaker who entertains audiences with hilarious, original stories, often based on her life experiences. She leaves her audiences laughing—and better able to find the humour in their own lives. She also enjoys helping writers find their own funny bones.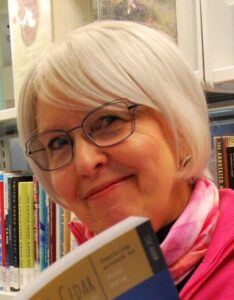 Hi!  I'm Judy Millar, and I'm glad you dropped by.  I'm a speaker and comedic storyteller. I love to entertain audiences with my humorous personal stories (when audiences can actually gather–BOO, Covid!). I also lead "Finding Your Funny Bone" workshops for writers and storytellers.
HUMOUR CONNECTS US ALL.
My published pieces have landed in magazines like Reader's Digest (Canada), Writer's Digest (USA), and anthologies like Flash Nonfiction Funny (Woodhall Press, 2018). When I'm not performing or blogging at Medium), I'm scribbling essays for Millar LITE: A Comic Look at Life, Love, Sex and Survival.
 I hope one day we'll meet at YOUR special event or via the printed page. In the meantime, have a look around. Use the contact form to be in touch any time—to inquire about booking, or just to say "hi" and share a funny story of your own . . . because 
A day without laughter is a day wasted.
(I didn't say that—Charlie Chaplin did—but I agree!)
~ Judy

P.S. Can't find your funny bone today? Use your elbow to click on the video below!  (For more fun, swing by YouTube or check out the videos page on this site.)
"Judy, thank you for entertaining our members with your quick wit and hilarious delivery of seriously funny humour. You had us in stitches!"

John O'Malley, President,
Bastion City Probus Club

Laughter is the best medicine—unless you have diarrhea.
Kay Morrison – AATH
(Association for Applied & Therapeutic Humor)
"Judy has entertained at several of our events. She has a knack of seeing everyday occurrences in her life in a different light that makes me think of Seinfeld. Always a mischievous twist! She really is a gem and we can't wait for her next performance!"

Mary Logue, Event Coordinator
Nanaimo Paddlers' Club