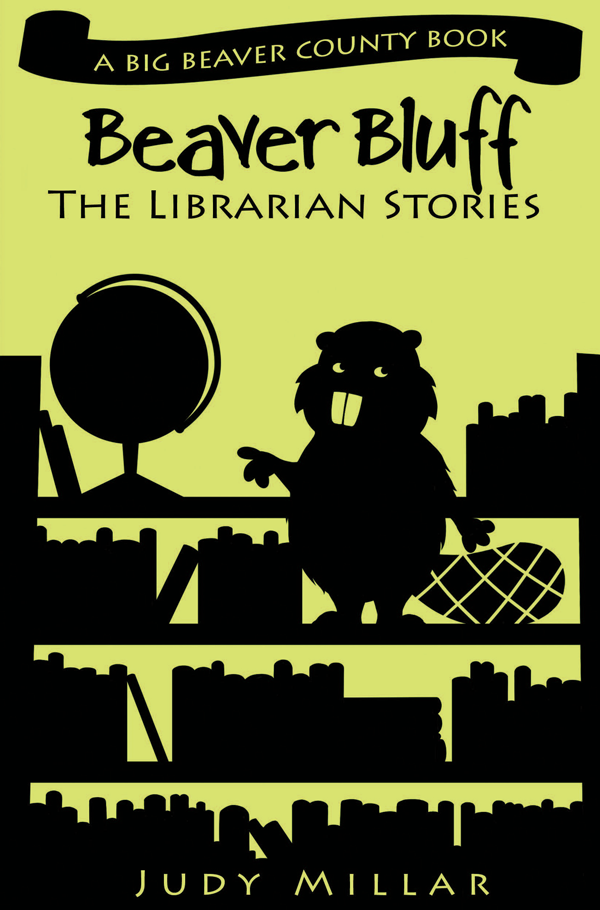 Book Details
ISBNs 978-1480081161 / 978-0-9917307-2-8
(print format) available on Amazon.com, Amazon.ca or the Amazon nearest you.
978-0-9917307-3-5  (Kindle eBook, mobi format) available on Amazon.com, Amazon.ca or the Amazon nearest you.
978-0-9917307-1-1
coming soon in e-pub format
Beaver Bluff: The Librarian Stories includes six humorous short stories: "Fly Guy"; "Breathless in Beaver Bluff"; "Vital Signs"; "Last Tango in Tangier"; "G.K. Loves C.K."; "I'll Tell You Mine if You'll Tell Me Yours."
About the Book
Shhh! Somewhere in the Great Pacific Northwest, the librarians of Big Beaver County are looking for love—or at least, job security—with comical and often calamitous results.
Wherever you lurk in your local library—the 523s (solar system), 597s (insects), 612.6s (sex and reproduction), or 641.5s (cooking)—you are unlikely to meet a wackier, wittier or more wonderful collection of characters than the quirky crew in Big Beaver County. When they're not scheming to sweeten up their superiors or set up their colleagues for downsizing, they're scripting erotic encounters and trying to outdo each other with their literary tattoos!
Life between the stacks isn't really like this—or is it?
What are people saying about this collection of six Big Beaver County stories?
"Beaver Bluff is a rollicking and ribald account of what goes on behind the Circulation Desk."
Susan Juby, author of The Woefield Poultry Collective
"A whimsical, witty and wacky collection of stories about life in the stacks of the fictional Big Beaver County Library. No library card required to check out these weird and wonderful characters—just a love of laughter."
Lois Peterson, author and 30-year library staffer
Want to learn more about Big Beaver County?
I've put together a handy Q&A including a map of the region and some interesting facts which you can find here.