I hope you've had lots of summertime fun. I have! I've done some kayaking in my new (to me) periwinkle kayak.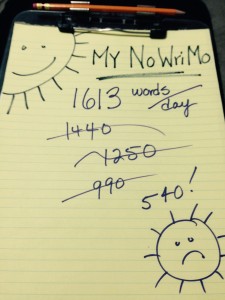 I've also been busy performing and writing new pieces. Writing with all summer's distractions is hard! I had some fun with that topic for the Federation of B.C. Writers. Check out my article "Summertime and the writin' ain't easy" on pgs. 27-28 of the Summer 2015 issue of WordWorks magazine. (Writers who struggle to meet a daily word count for NaNoWriMo may be able to relate!)
I also had summertime fun figuring out what Shakespeare, Lady Godiva, Henry the 8th and others might TWEET in their online dating profiles.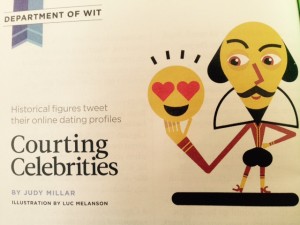 (If you missed reading my piece in July 2015 Reader's Digest Canada, you can catch it online:  (I LOVE the cool Shakespeare that illustrator Luc Melanson came up with, don't you?)
Catching up on reading some recent Canadian humour was fun too. I particularly enjoyed Who Killed Mom?, a warm and funny memoir by Steve Burgess and I Can't Believe It's Not Better by Monica Heisey. I also recommend Laughing All The Way to the Mosque by Zarqa Nawaz and Curtains for Roy by Aaron Bushkowsky. The latter two were shortlisted for this year's Leacock Medal for Humour, and you'll soon see why.
If your goal is to get a flavour of all Canada's premier humorists, Dick Bourgeois-Doyle has done the legwork for you.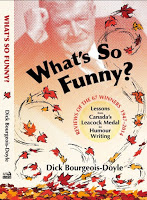 In his quest to live a more humorous life, Dick collected, read and reviewed ALL the books (to his pub. date) that had won the Stephen Leacock Memorial Medal, in his book: WHAT'S SO FUNNY? Lessons from Canada's Leacock Medal of Humour Writing. It's a "Who's Who" of who's [been] funny in Canada. Sampling all these Canadian humorists will take us awhile. That should let us carry the heartwarming, summertime fun well into our cold Canadian winter. Thanks, Dick. Enjoy!
Welcome to my blog. If you want to subscribe by email, enter your address into the field below. If you'd rather connect on twitter, facebook or youtube - look up to those little icons in the header and pick one to click on.

Get updates by email

Looking for something specific?

What interests you?

Buy books from
"Judy, thank you for entertaining our members with your quick wit and hilarious delivery of seriously funny humour. You had us in stitches!"

John O'Malley, President,
Bastion City Probus Club

Laughter is the best medicine—unless you have diarrhea.
Kay Morrison – AATH
(Association for Applied & Therapeutic Humor)