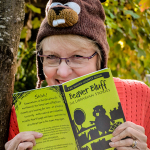 Love libraries? Let's fill the shelves.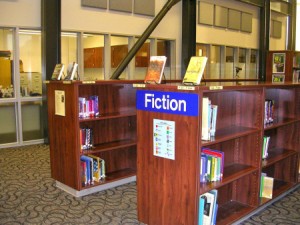 I love libraries—and librarians. My first job was in a library, and my comical characters are still hanging out in the stacks of fictional Big Beaver County libraries trying to make my readers laugh. But there's nothing funny about the empty shelves in many underfunded school libraries these days. I was saddened to read about the situation—and interested to read David Gaughran's blog post about an initiative called "Fill The Shelves" that's making a difference.
Under the "Fill The Shelves" program, school librarians use Amazon's Wish List system strategically to detail the particular books they believe their shelves lack. Those of us who want to help remedy things can choose which of those books we would like to purchase on behalf of our chosen school. Amazon handles the transactions, and the books get delivered straight to that school librarian.
Apparently, authors can help out in another way—simply by adding the following tag to their own Amazon book link(s):
?tag=filltheshelves-20
For example, if you were considering purchasing my book, Beaver Bluff: The Librarian Stories (not for a school, for yourself)—and you did so by clicking through to its Amazon.com page via a link with this tag at the end—Amazon would donate roughly 5% of your purchase price to the "Fill The Shelves" program. Neat concept. That's why I've tacked the tag onto the end of these Amazon.com links for the paperback and the Kindle copies of Beaver Bluff.
I've also tacked the "Fill The Shelves" code onto these Amazon.com links for my single Kindle eStories:
"Fly Guy" (a fly-obsessed librarian schemes to sweeten up his fussy new boss); "Breathless in Beaver Bluff" (a love-starved librarian longs for an erotic literary encounter); "Vital Signs" (a library services PR manager searches for love—and someone who can overlook the size of his nose); "Last Tango in Tangier" (a bungling librarian tries to set up an unsuspecting colleague to be downsized); "G.K. Loves C.K." (a flirtation in the library stacks is threatened by a planetary demotion); "I'll Tell You Mine, if You'll Tell Me Yours" (an unlikely pair of librarians divulge details about their literary tattoos).
Spreading the word about the "Fill The Shelves" program is just as important as buying books, so feel free to reblog or share this post on Twitter or Facebook using the buttons below. School librarians who'd like their schools considered for "Fill the Shelves" assistance can email contactfilltheshelves [AT] gmail.com for more information.
The "Fill The Shelves" program is active in the U.S. and coming to the UK—but isn't available in Canada, to my knowledge. Canadians who want to help strengthen libraries can volunteer in a "Friends of the Library" group (ask your local librarian or contact Friends of Canadian Libraries) or donate to the Canadian Library Association via Canada Helps.
Whatever we do, booklovers want to be sure that the shelves are always full of new words—and new worlds—to explore.
Just curious: Did you get hooked on libraries as a child? Do you think today's kids have the same connection? Would they rather stare at a gadget screen than read a physical book?

Welcome to my blog. If you want to subscribe by email, enter your address into the field below. If you'd rather connect on twitter, facebook or youtube - look up to those little icons in the header and pick one to click on.

Get updates by email

Looking for something specific?

What interests you?

Buy books from
"Judy, thank you for entertaining our members with your quick wit and hilarious delivery of seriously funny humour. You had us in stitches!"

John O'Malley, President,
Bastion City Probus Club

Laughter is the best medicine—unless you have diarrhea.
Kay Morrison – AATH
(Association for Applied & Therapeutic Humor)