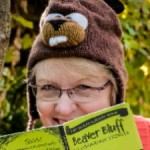 I've been bad. I've been goofing off having fun in Santa Fe instead of writing new stories or even writing this blog. The only thing I have been writing has also been BAD—bad poetry, that is. Writing deliberately bad poetry is just SO MUCH FUN.
I've already shared some of my intentionally bad poetry in my video rendition of "I Wandered Lonely as a Cloud." But General Store Publishing House got me hooked on writing more with its Spring Bad Poetry contest. Then literary agent Chip MacGregor ran his annual bad poetry contest and I couldn't stop myself from writing this (sadly unrequited) love poem to George Clooney (more specifically, to the cleft in George Clooney's chin).
In case you think writing bad poetry is too low-brow, note that even Columbia University's Philolexian Society has been sponsoring a bad poetry contest since 1986.
Then it hit me: Why should these other websites be having all the fun hosting bad poetry? My readers can write stuff that's bad too—maybe even "badder"! So the challenge is on.
Can you write some squirmingly sentimental, over-the-top awful, bad poetry? The worst of the worst you send (which of course means the poem that best tickles the funny bones of our three renowned judges—all of whom insist on remaining anonymous) will win a copy of Beaver Bluff: The Librarian Stories to keep the laughs going.
Entry fee is FREE–with a wee request in support of a good cause. I recently learned that Canadian humorist Gordon Kirkland is dying for lack of a liver transplant suited to his rare blood type. I don't know Gordon Kirkland personally, but I've enjoyed his work. As a humorist myself, I know what it takes to make others laugh so I know Gordon has worked hard to brighten our days. If you can find it in your heart or your wallet to support the fundraiser for Gordon, here's how. If you can't contribute, maybe you could share that link with someone who can. At minimum, perhaps our bad poetry will make Gordon smile. Laughter is good medicine—even for those waiting on a miracle.
If you need to prime your poetry-writing pump by reading some bad poetry, check out some of the hilarious submissions on Chip MacGregor's blog. Then give it your best—I mean worst—shot. You can paste your bad poetry into the Comments section below (inappropriate material will be deleted). If you prefer that your effort not be posted unless it wins or you want to submit a video entry, send it along by email.
You have the rest of May to submit your bad poetry. If you're inspired, send several submissions. I'll announce a winner June 1st. Have fun! (And if you happen to know George Clooney's email address, please send him a link to my unrequited love poem. Maybe he'll be smitten–and REQUITE. 🙂 )
Welcome to my blog. If you want to subscribe by email, enter your address into the field below. If you'd rather connect on twitter, facebook or youtube - look up to those little icons in the header and pick one to click on.

Get updates by email

Looking for something specific?

What interests you?

Buy books from
"Judy, thank you for entertaining our members with your quick wit and hilarious delivery of seriously funny humour. You had us in stitches!"

John O'Malley, President,
Bastion City Probus Club

Laughter is the best medicine—unless you have diarrhea.
Kay Morrison – AATH
(Association for Applied & Therapeutic Humor)