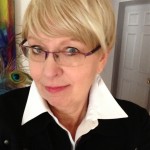 It's been a tough year for women like me—women with a George Clooney crush. As long as the "silver fox" was out there being his commitment-phobic, bachelor/playboy self, each of us could nurse our secret fantasy. We just knew that someday, perhaps in an airport concourse or a busy Starbucks, we'd look up and spot THE CLEFT in that unmistakable chin. There he'd be, in all his hunkyness—smiling, and saying . . . well, never mind what he'd be saying. That's my fantasy. But all us "Clooneyites" were crushed to learn that British human rights lawyer Amal Alamuddin was engaged to our guy.
I took the news harder than most. My George Clooney crush had blossomed into a "love poem." I'd uploaded a "selfie" video recording of me reciting that poem to YouTube. Then I'd been waiting by the phone. Okay, maybe I'm kidding about that part—but I had been having lots of fun sharing my poem with audiences like this one.
To keep the fun going, I plan to share other video samples of my storytelling here in the weeks and months ahead—some are comical personal stories, others are "persona" pieces. If you want to be sure to catch them, click the "subscribe" button to be notified of new posts.
In the meantime, I'm sending my best wishes to George and Amal, as I'm told they're getting married any day now. I can't hold getting married against George since technically I am married to Kayak Guy. (Well, not just technically—actually.) But I'm leaving my selfie Ode to George Clooney's cleft, and this George Clooney Crush video, up on YouTube. Maybe if we all hurry and share the link, it might somehow find its way to him before he takes the plunge? Then there's no telling what could happen. One day I might just glance up—into the cleft in that very chin. 🙂
Welcome to my blog. If you want to subscribe by email, enter your address into the field below. If you'd rather connect on twitter, facebook or youtube - look up to those little icons in the header and pick one to click on.

Get updates by email

Looking for something specific?

What interests you?

Buy books from
"Judy, thank you for entertaining our members with your quick wit and hilarious delivery of seriously funny humour. You had us in stitches!"

John O'Malley, President,
Bastion City Probus Club

Laughter is the best medicine—unless you have diarrhea.
Kay Morrison – AATH
(Association for Applied & Therapeutic Humor)