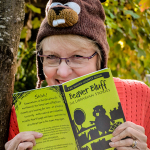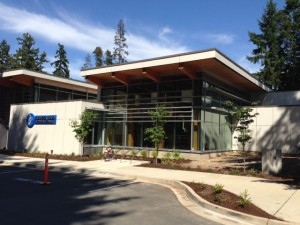 I love libraries any old day—but I especially loved one yesterday! That's when I took in the official opening of the new Nanaimo North branch of Vancouver Island Regional Library (VIRL). Colour me impressed! It's a stunning facility. (My iPhone photos don't do it justice. If you're in the vicinity, check it out; if you're not, you'll find professional photos in the 2013 annual report posted on VIRL's site).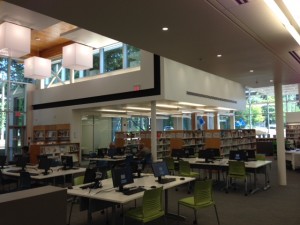 Yes, I love libraries now, but I was a relative latecomer to the love of reading. If you'd told seven-year-old me that I'd grow up to be a writer—much less, someday write a book of librarian stories—my jaw would have dropped. I had difficulty learning to read. I was once called on to read aloud to the class, and seemed to be reading well. I was mortified when my teacher noticed that I hadn't turned the page at the correct time. She deduced, correctly, that I was reciting from memory of her previous reading of that story to the class (my memory was good back then!). My surprised parents were instructed to get me to a library pronto, and have me read to them every night. What began badly grew into one of the great loves of my life!
I love libraries in part because of the great people you meet IN them! Attendees at yesterday's Nanaimo North grand opening were treated to an original poem written for the occasion by Nanaimo's own poet laureate, Naomi Beth Wakan. I think Naomi has written more books than you and I have fingers and toes! She is a marvel. She's been a mentor to me, and to many. Here we are at yesterday's grand opening.
Naomi has been encouraging area writers to pen poems about Nanaimo. A committee then chooses one each month for publication in the Nanaimo Daily News. I took up her challenge and had some fun targeting Nanaimo's quirky street names. My Nanaimo poem was chosen and published in May (along with young Jeffery Adam's haiku—way to go, Jeffery!). I'll print my poem below. (You'll find Naomi's comments about it here—along with the email address which Nanaimo-area folks can use to submit their OWN Nanaimo poems for consideration. Why not give it a go?)
Nanaimo: What's in a Name?
How to lyricize Nanaimo
when nothing even seems to rhymo?—
a place with streets named Jingle Pot
could render poets quite distraught;
or how 'bout Twiggly Wiggly Road
to make a rhymer's head explode?
There's Giggleswick and Dingle Bingle
to wedge into one's little jingle,
not to mention Buttertubs—
the valiant poet tries, and flubs,
to make the poem sound poetic
when it's quite lacking that aesthetic.
And yet, she loves Nanaimo's spirit—
the zany names that quite endear it.
And what about the city's name?
"Snanaimo*" is from whence it came;
"Great People" is for what that stood.
Nanaimo's name is apt. And good.
Judy Millar
*The original word for Nanaimo was "Snuneymuxw."
But back to libraries. I said I love libraries because of the great people you meet there—and at yesterday's opening, I also bumped into Mary Ann Moore.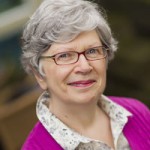 Mary Ann is a friend, and a fine poet. She has a super blog called A Poet's Nanaimo. Her new book, Fishing for Mermaids, was recently published by Leaf Press and she's doing launches in and around the Island. Check here to see if she's coming to a library or venue near you.
I could go on and on about why I love libraries, but I wonder: Why do YOU love libraries? Were you smitten the first time your parent took you into one? When and how did you get bitten by the library bug?
Welcome to my blog. If you want to subscribe by email, enter your address into the field below. If you'd rather connect on twitter, facebook or youtube - look up to those little icons in the header and pick one to click on.

Get updates by email

Looking for something specific?

What interests you?

Buy books from
"Judy, thank you for entertaining our members with your quick wit and hilarious delivery of seriously funny humour. You had us in stitches!"

John O'Malley, President,
Bastion City Probus Club

Laughter is the best medicine—unless you have diarrhea.
Kay Morrison – AATH
(Association for Applied & Therapeutic Humor)