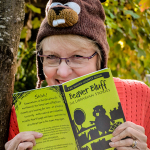 Who am I? Or rather, who AREN'T I?
Hi! I'm a Canadian writer, humorist and performer—and the author of Beaver Bluff: The Librarian Stories. That sounds like a simple message to convey. It might be, if my name weren't Judy Millar. Carving out an internet identity when your name is Judy Millar is a huge problem because others got there first. Others—namely (and how apt is that phrase?) a New Zealand abstract artist named Judy Millar. No dabbling little watercolorist, either. The Judy Millar who snatched up the key cyber real estate known as JudyMillar.COM paints canvases one-quarter the size of her country.
I am not that Judy Millar (although I'd be tempted to buy some of her work if I had bigger walls and a bigger wallet). I am Judy Millar, the WRITER. Which clarifies nothing, since, it turns out there are several of those too. One, a journalist named Judith Miller, gobbled up much of the prime Google territory by writing about the whole Weapons of Mass Destruction thing (a very big oops!). She chose to go to jail rather than reveal her sources. I would give up my own grandmother under duress, so I am not that Judy Miller. Another literary Judith Millar has a book on Amazon about a grave-tender. Interesting occupation. Some of my stories are set in funeral homes, but that's not me either.
I don't want to be any of these Judy/Judith MillAR/ERs (talented though they may be). I want to be more like other humorous writers I admire. I want to be the first female Stuart McLean (except a little less straight-laced—don't tell Stuart I said so) … speaking of which, I want to be the first straight Ivan Coyote (a super storyteller, and one very funny lady—except, as she will forcefully tell you, she's NO lady). I want to be the Leacock-winning Terry Fallis (except less political) … and the Pulitizer Prize-winning Dave Barry (except I rarely write about exploding whales) … and I want to be Erma Bombeck and Nora Ephron and Dorothy Parker (except I want to be still alive—and I wish they were too, don't you?).
In the end, all I can be is ME … a Canadian writer and storyteller who loves to laugh. I just wrote a humorous book called Beaver Bluff: The Librarian Stories that might make you laugh too. Take a look around JudyMillar.CA (That's Millar with an "eh"! (=Millar, spelled AR, and the Canadian .CA site extension—not .com, eh!). And don't just look, have a listen on YouTube or right here on this site. Drop by anytime. My door is always open. Except when the net's down. Which it is sometimes. But that's not my fault. That's those OTHER Judy Millars.
Welcome to my blog. If you want to subscribe by email, enter your address into the field below. If you'd rather connect on twitter, facebook or youtube - look up to those little icons in the header and pick one to click on.

Get updates by email

Looking for something specific?

What interests you?

Buy books from
"Judy, thank you for entertaining our members with your quick wit and hilarious delivery of seriously funny humour. You had us in stitches!"

John O'Malley, President,
Bastion City Probus Club

Laughter is the best medicine—unless you have diarrhea.
Kay Morrison – AATH
(Association for Applied & Therapeutic Humor)