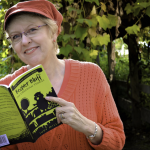 Here we are, well into the lusty month of May, and I haven't had anything to say for months. Not here, anyway. A rep of the company that hosts my website actually phoned the other day to remind me that web crawlers won't find my blog unless I post new content. Hmm. That makes it seem like I've been goofing off. Actually I've been out and about— storytelling.
Storytelling sounds like "business as usual" for a writer/performer like me. It's anything but. In recent months I've been persuaded to set aside the piece of paper, and just TELL the story. That's right—no safety net. When it comes to connecting with an audience, telling tales trumps reading them. But embracing "off the cuff" storytelling was traumatic for someone settled in her ways. It's been scary trying to persuade my protesting brain that I won't "blank" in front of a crowd—or, if I do, it won't be the end of the world. (And I have. And it wasn't. Thank goodness. I'd hate to have the end of the world on my conscience.)
I've told true stories about being a mother-of-the-bride with a black eye. And about my days working as a chicken plucker, a travel trailer electrician, and even a brothel owner (okay, an inadvertent brothel owner—the building I bought came with a few surprises). Audiences laughed so I hard I got brave enough to do some storytelling about my colonoscopy cruise. Tomorrow (as befits the lusty month of May) I'm going to tell an audience about my crush on George Clooney. And how crushed I am to hear he's planning to tie the knot. If you can't be at Around Town Tellers, here's a little sample:
Storytelling has been a stretch from writing funny fiction and reading it aloud to audiences. It's a new kind of fun.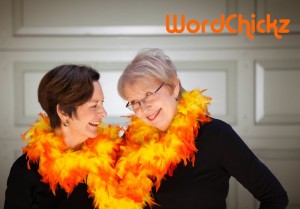 I've been "telling" around the Island, and even in Vancouver—solo, and with my WordChickz performing partner, Cindy Shantz. If those web crawlers think I've been slacking off, they're not crawling the right corners!
Spring is sprung, and all the world is new. I dare YOU to try something new too. What life story have you got to tell?
Welcome to my blog. If you want to subscribe by email, enter your address into the field below. If you'd rather connect on twitter, facebook or youtube - look up to those little icons in the header and pick one to click on.

Get updates by email

Looking for something specific?

What interests you?

Buy books from
"Judy, thank you for entertaining our members with your quick wit and hilarious delivery of seriously funny humour. You had us in stitches!"

John O'Malley, President,
Bastion City Probus Club

Laughter is the best medicine—unless you have diarrhea.
Kay Morrison – AATH
(Association for Applied & Therapeutic Humor)